Furnace Installation and Repair in Oley, PA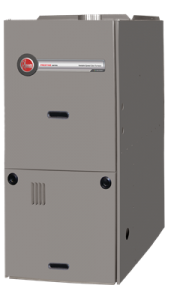 Furnaces. May sound like old tech, but there is a lot of new innovations that keeps furnaces a competitive source of heat for your home. For example, some of  Rheem's Prestige Series gas furnace use a modulating gas valve to control heat output. This combined with Rheem's EcoNet thermostat will cause your furnace to only put out as much air as is needed to heat your house. Not only is this efficient, but it prevents the Sahara winds that other furnaces produce from being pumped out of your registers.
Whether you have an old system that needs to be retro fitted, or a completely new install, we will work with you to get you the best furnace system installation possible. Have unusual ductwork? No problem. We are equipped to make custom ductwork adaptations so your furnace can be installed whether your duct is steel or fiberboard. We use a device called a Pittsburgh machine to make our fittings sturdy and air tight. Then we tape all joints between each section of duct with foil tape, not Duct Tape. Despite its name, Duct Tape is not good for duct work. It dries out and flakes away. We do this to make sure that your hot air gets to where you need it.